Lucien Foort & Friends returns home in Rotterdam's Maassilo
Lucien Foort & Friends unites new talents and renowned heroes on stage
On Saturday December 10th, Rotterdam house legend Luciën Foort is homebound, with his own Lucien Foort & Friends night in the Maassilo. After successful editions in Dordrecht, The Hague, Scheveningen, Haarlem and Tilburg, the ever-grooving DJ eagerly lands his underground club concept in the industrial Maashaven venue. And he's not the only DJ on board to put the fun in funky that night…
OFFICIAL TEASER LUCIEN FOORT & FRIENDS



LUCIEN FOORT & FRIENDS
With more than 25 years of international DJ experience, residencies in super clubs like Pacha, Gatecrasher and Cream, as well as a long list of hits on his name, Luciën Foort is a rightful king in his trade. After performances at the world's biggest festivals, Foort re-embraced the underground scene and kicked off his own club concept, earning him sold-out nights in clubs all across The Netherlands. On December 10th, his concept hits into Maassilo, inviting a line-up of hot, new talent and renowned DJ's for all curious house & techno lovers to enjoy. Each with their own flow, sound and groove, this night showcases upcoming talents such as Apotheque b2b Bold Moves, Illfort Grantz and Lorenzo Foort, as well as legendary DJ's like TFX, Erick E, Jasper Clash and of course Lucien Foort himself. A diverse line-up, that explores all different shades of house, techno and deep-house.
COMPLETE LINE UP !
Lucien Foort – Erick E – TFX Live – Simun – Jasper Clash – Illfort Grantz – Lorenzo Foort – Apotheque b2b Bold Moves



Lucien Foort & Friends, on December 10th, is one of the areas at the Grotesque Indoor Festival 250. A brand new sound system, three different stages with a diverse line-up in house, techno and trance, a night bursting with entertainment, lounge areas, food and many more surprises, will take the real festival feel indoors.
FESTIVAL MAP - GROTESQUE INDOOR FESTIVAL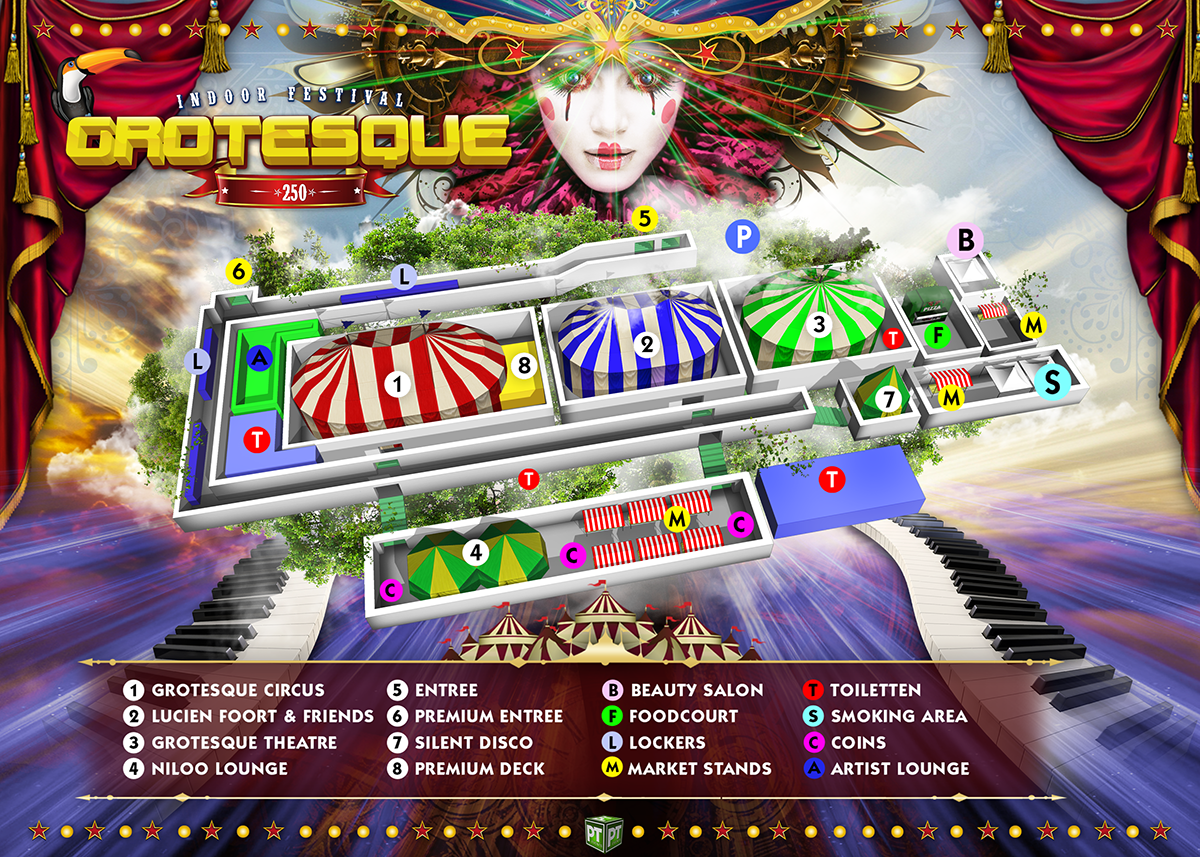 PARKING
Considering parking can be a bit of a hassle, the organization arranged a secured parking lot for only 10 euro. Despite the venue being at 5 minutes walking distance, PT Events does provide shuttles busses. Tickets available through the website..
For more info, check the Facebook Eventpage or www.ptevents.nl

Tickets – Premium Tickets – Parking
Last tickets for € 39,50
Early Premium € 52,50 - SOLD OUT

Regular                € 47,50
Premium             € 59,50
Parking Ticket   €10,=
Bekijk hier het Premium Pack
Koop je kaarten via www.ptevents.nl

Houd onze Eventpage op Facebook in de gaten voor nog meer interessante nieuwsitems..


Lucien Foort – Erick E – TFX Live - Simun - Jasper Clash - Illfort Grantz - Lorenzo Foort - Apotheque b2b Boldmoves
John O'Callaghan | Sean Tyas | Vini Vici | Mark Sixma | RAM | Alex M.O.R.P.H. | Richard Durand
Mark Sherry b2b Alex Di Stefano | Ruben de Ronde | James Dymond | Stephen Kirkwood | Allen Watts | Amir Hussain | U Cast | MC da Silva